JOIN TODAY WHILE SPACE IS AVAILABLE! DO IT NOW!
All-Inclusive Partner Rates
Normal Brochure:
$2,615.00
Larger than Normal Brochure:
$3,350.00
At The Above Great Rates!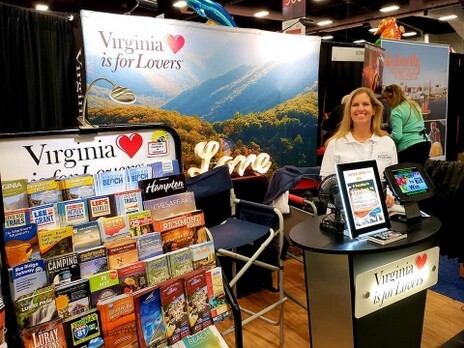 Brochure Space Limited To The First 40 Partners
What is the Virginia Travel Show Partnership?
The Virginia Travel Show Partnership is a joint venture with up to 40 Virginia partners. These partners represent a diverse cross section of the Virginia travel product. Their roles are either providing services as attractions, events, lodging or destination marketing organizations.
Virginia Marketing LLC will be managing and representing the Virginia Travel Show Partnership at National consumer travel shows.
The goal in this program is to increase exposure of Virginia travel destinations to consumers east of the Mississippi. By doing so, we further anticipate an increase in visitation to the partner destination and to Virginia.
The show selections have been chosen to align with the majority of the top 10 travel party origins area. These include Washington, DC - New York - Raleigh - Pittsburgh - Baltimore - Ohio - Maryland - Florida.
These locations are chosen after careful analysis of numbers and demographics of the top ten travel party origin areas for each.
In addition, the selected travel shows are held in eight of the 10 top ten states for travel party
origin to Virginia
· The Virginia Travel Show Partnership is managed by Virginia Marketing, LLC.
· Enhanced partner brochure distribution.
Research from the International Association of Professional Brochure Distributors indicates that 69% of people who pick up a brochure at a travel or consumer show planned to visit an attraction, considered changing their travel plans or planned to extend their stay.
In addition several of the shows chosen are AAA sponsored shows which according to the Virginia Leisure Travel Profile is important as AAA is one of the top planning information sources for travel to Virginia.
· Award-winning booth displays.
· The partnership reaches nearly 1,000,000 consumers and travelers.
· Partners are given the opportunity to volunteer to work the consumer travel shows.
· Partners are encouraged to offer itineraries and packages as "Prize" promotions at the shows.
· Partners are supplied qualified leads at the end of the shows.
· Time proven ROI with superior one on one brochure distribution.
It's Going To Be A Great Season For Tourism
SCAN THIS QR CODE TO GO TO THE VIRGINIA IS FOR LOVERS WEBSITE